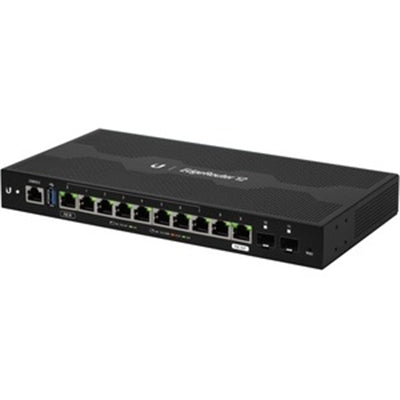 EdgeRouter 12P
SKU
ER12PCA

Out of stock.
We'll fill your order as soon as we can.
Prices may be subject to change.
High performing and flexible, the EdgeRouter 12P is part of the next generation of routers designed for home or office use. With 24V 2-Pair PoE output on each of its ten Gigabit Ethernet copper connection ports and two SFP fiber connection ports, this router delivers up to 3.4 million pps for 64-byte packets. A marked increased performance over the previous generation of routers, the EdgeRouter 12P supports Layer-2 switching and scalable configuration using EdgeOS or the Ubiquiti Network Management System (UNMS).
Product Information
    

    

4-Core 1 GHz MIPS64 Processor

    

   

1 GB DDR3 RAM System Memory




    

   

(1) RJ45 Serial Port

    

    

(10) Gigabit Ethernet Port

    

   

(2) 1 Gps SFP Ports