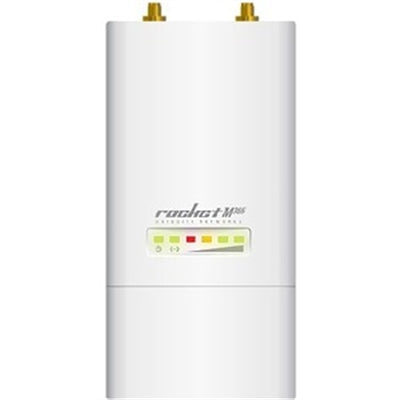 Rocket M365 Wireless Access Point
SKU
ROCKETM365CA

Out of stock.
We'll fill your order as soon as we can.
Prices may be subject to change.
Ideal for deployment in Point-to-Point (PtP) bridging or Point-to-MultiPoint (PtMP) applications, the Rocket M365 Wireless Access Point features enhanced radio performance and mix-and-match industrial design.
Highly capable and built to survive harsh environments, the Rocket M365 seamlessly works with airMAX® Sector, RocketDish™, Omni and Yagi antennas and features a plug-and-play integration.
Ubiquiti's Time Division Multiple Access (TDMA) AirMax protocol allows each client to send & receive data using pre-designated time slots scheduled by an intelligent AP controller, enabling unprecedented scalability, high throughput and low latency in unlicensed, multipoint networks.
Product Information
        

3.65 GHz frequency band

        

2 external antennas with a 31.1 mile (50 km) range

       

150 Mbit/s wireless transmission speed

       

Waterproof

       

AirControl, airOs and Web-Based Management