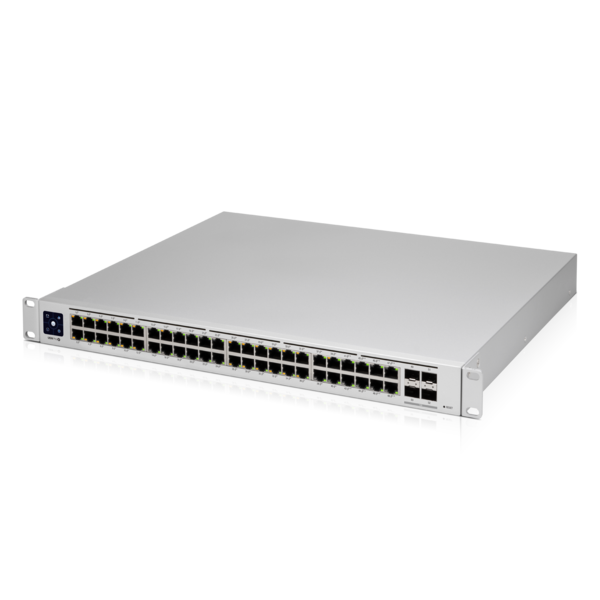 UniFi Switch PRO 48 Gigabit PoE
SKU
USWPRO48POE

Out of stock.
We'll fill your order as soon as we can.
Prices may be subject to change.
48-port switch with (40) 802.3at PoE+ ports, (8) 802.3bt PoE++ ports, and (4) 10 GB SFP+ ports. Powerful second-generation UniFi switching.
SKU: USW-PRO-48-POE

UniFi Switch Pro 48 PoE is a fully managed Layer 3 switch with (8) 802.3bt (PoE++) and (40) 802.3at (PoE+) Gigabit Ethernet ports. (4) 10G SFP+ uplinks offer link aggregation for higher capacity and increased availability. The UniFi Switch Pro 48 PoE features a rich set of Layer 2 capabilities and integrates Layer 3 functionality such as inter-VLAN routing, static routing, and DHCP server. The UniFi Switch Pro 48 PoE is the ideal access layer switch for any UniFi solution – it combines up to 600W of near-silent PoE power with UniFi SmartPower RPS power redundancy. UniFi Network Controller and UniFi Network mobile app allow admins to configure and monitor virtually all of the switch features in  an intuitive graphical user interface from anywhere.
Features:
(8) Gigabit RJ45 802.3bt PoE++ ports

(40) Gigabit RJ45 802.3at PoE+ ports

(4) 10G SFP+ ports

Layer 2 and Layer 3 features

600W maximum PoE power

UniFi SmartPower RPS DC input

Near-silent cooling

1.3" touchscreen display

Managed by UniFi Network Controller
Managed by UniFi Network Controller version: 5.10.5 or higher